Cash & Carry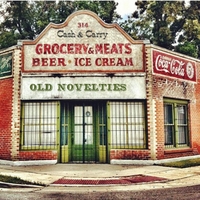 Dawg (Mike) and French (Thierry) have been playing together for more than a decade. They were both members of the band, Idylwood, whose CD is available on Amazon.com. As Cash & Carry they record with a variety of female singers and occasionally rely on guest musicians. The band's first EP, Old Novelties, can be found on iTunes and CD Baby. You can also listen to them for free on Reverbnation.
Thierry Sagnier, also known simply as French, is possibly the best Parisian pedal steel guitar player in Northern Virginia and has also been known to handle a Roland Fender synthesizer guitar, a Dobro and a Melobar. He is Cash & Carry's wordsmith, having written hundreds of songs in both his native tongue and English. He was born in Paris, France, and came to the US as a teen whose first American purchase was a Silvertone guitar from Sears & Roebuck.
Mike Yablonski, a.k.a. The Dawg, has been involved with music in some form or another since learning guitar in middle school, inspired by the likes of the Beatles, Stones and various musical groups during the Golden Age of Guitar Rock. An accomplished guitarist, bassist, syntesis, songwriter and professed music studio geek, The Dawg is the production engine behind Cash & Carry. In his spare time, he collects custom made guitars, experiments with the latest music production software, and is frequently found on the Potomac River on one of his Stand Up Paddle Boards.